Playground inspections services in CT, NY, NJ, MA.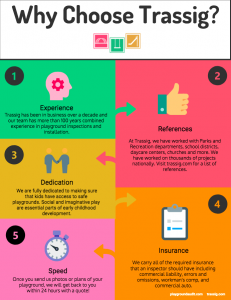 PlaygroundAudit.com is a division of Trassig, a commercial playground company in Connecticut. We believe that play is an essential experience for every child and we are dedicated to making your playground as safe as possible. We specialize in playground inspections, audits, and risk management consultation. We are experts in playground safety, ASTM and ADA regulations, and early childhood development. Our products and compliance training are available nationwide. Our playground inspection services are available in CT, NY, NJ and MA.
We pride ourselves on our uncompromising focus on safety and our common-sense approach to playground maintenance. Our safety-conscious staff is skilled in identifying and correcting potential playground dangers for a variety of organizations. We have worked with a wide range of clients, including Parks and Rec. Directors, schools, City Risk Managers, Insurers, and Daycare Directors. 
We don't play when it comes to safety so that your kids can play with confidence.
What we can do for You
Playground Repairs that will bring you up to ASTM, ADA, and CPSC code

ADA and ASTM Playground Audits

Compliance Training Courses
Playground Inspections and Audits
Routine playground inspections done by a certified playground safety inspector (CPSI) will maximize the safety of your playground and reduce the occurrence of playground-related accidents. Our CPSIs are committed to code compliance and ensuring playground safety with a deep understanding of playground regulations.
This is the easiest way to reduce liability for your playground. We provide documentation to prove that you have taken the necessary steps to keep your site safe, and we keep our own records of every inspection and audit. These documents show us what to look out for in future inspections and help us recommend appropriate repairs and products in the future.
You save both time and money on your project by auditing a playground plan before any equipment is installed. Instead of finding serious design problems later on during inspections, we can look at your playground plans and point out hazards, concerns, and potential problems. You can ensure playground safety and code compliance before the playground is even there.
Playground Risk Management
Every playground is accompanied by certain risks. Trassig has over a decade of experience in the management of those risks and liabilities. We use a common-sense approach and best-practices alongside our combined 100 years of experience to mitigate playground hazards. Over the years, we have worked with a variety of clients to minimize the risks presented by potential playground hazards. In addition to working with parks, daycares, and schools, Trassig has been trusted to hold several state contracts for inspections. We are skilled in identifying equipment and surfacing hazards and developing safety solutions. Our team is up to date with ASTM, ADA, and CPSC playground safety codes. 
How to Choose the Right Inspector
There are a lot of people who meet the basic requirement to do playground inspections, which is a certified playground safety inspector (CPSI) certification. An inspector needs to meet a lot of other criteria, however, in order to be effective and reliable. In order to make sure that you have hired the right person or company, ask them:
How much experience do they have?

Do they have references and testimonials?

Will they be available for inspections in the future?

Does the inspector have insurance?

Do they have errors and omissions insurance, specifically?

Is their equipment up-to-date and properly rated?

Do they keep accurate records?

Do they have proper documentation?
Reach Us
Let us help you develop safety solutions and risk mitigation for your playgrounds. We are able to perform inspections in Connecticut, New York, New Jersey and throughout the greater part of New England. Please call 203-659-0456 or email info@trassig.com with your questions about playground safety or to schedule playground inspections.
In addition to playground inspections we offer a wide variety of DIY playground surface repair kits.