There are many contractors and companies that do not have the right knowledge to properly design playground layouts or pick the appropriate equipment. We take a look at all of the plans that you have for your playground project before you install anything on the site. This is the best way to avoid making costly changes and repairs later on. At Trassig, we want to make sure that you save money and by double checking your code compliance and playground safety practices. We will help you reduce the risk of accidents and lawsuits.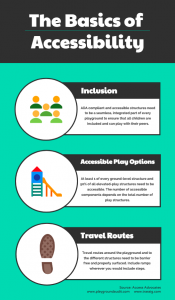 ASTM Audits
The process of planning a new playground project can be complicated and overwhelming. There are a lot of codes and regulations regarding every aspect of playground sites. Our team of experienced CPSIs is up-to-date on the most recent codes and can spot liability problems that you might have missed. We have over 100 years of combined experience that we can put to work on any kind of project. At Trassig, we do our audits off-site, so they are nationally available. Email or fax us your plans, and we will get back to you within 24 hours with a quote. We will then be able to have a conversation about the best way to fix the hazards we find. 
ADA Compliance
ADA compliance is something that we are constantly looking for. Not only is it unethical to build playgrounds that are inaccessible, but it is also illegal. All children need to be able to use the playgrounds in their communities, and all family members with disabilities need to be able to accompany them. The American's with Disabilities Act contains a lot of information but we are also experts with these regulations. We will always ensure that a project we work on is ADA compliant. There are ways to make sure that your site is wheelchair accessible, but wheelchairs are only one of many considerations. Auditing your plans is the best way to make sure that you are building an ADA compliant space that is usable by people with all kinds of different needs.
Contact us at 203 659 0456 or info@trassig.com for a quote or with any questions!