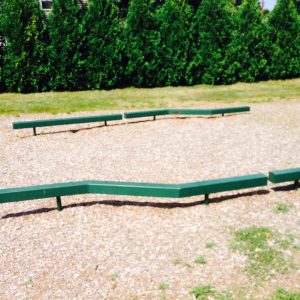 Balance beams can add an element of risk to a playground.The possibility of falling off provides an element of unpredictability to play. They must carefully stand on the beam and keep themselves steady. This is a skill that can be difficult for children and it is a great skill for them to practice. They can help children develop balancing skills and an element of unpredictability to playgrounds. It also is a good way to help their coordination. A child can jump off, walk on one foot, try to remain steady with a foot in front of the other, or anything else they imagine. They can really choose the way they wish to play on them. Likewise, balance beams encourage creative play. Kids can imagine themselves in storybook situations while they are playing.
Balance beams are simple and do not give much instruction on how they are meant to be used. Their simplicity leaves the creativity up to the child which is a great way for them to use their imagination in different ways. Natural elements can be brought into any playgrounds to achieve this. A fallen log can add the same value to any playground or area. Children should be encouraged to use the natural elements around their playground that they find and incorporate them into their play.
Children are using balance beams to learn to balance, a skill they may not have fully developed. Because of this they may fall off at times. This is why it is important to follow the use zones for balance beams and to supervise play.
Use Zone of Balance Beams
The use zone for balance beams is six feet or more. This means there must be six feet of protective surfacing every which way for six feet from the beams. Any other equipment should not overlap with the use zone. This is standard for most playground equipment.
Fall Height and Critical Fall Height
The walking surface or top of balance beams determines the Fall Height. Because children often fall off of these apparatuses, there is a twelve-inch maximum for preschool age children and sixteen-inch maximum for school-age children. The Critical Height must be the same height or taller. ASTM 8.1.3, Public Playground Safety Handbook (24)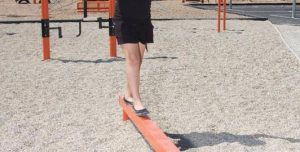 When it comes to balance beams, one must make sure that support posts underneath do not create a tripping hazard.