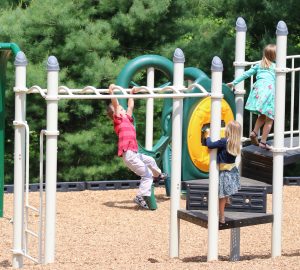 Children love monkey bars for the challenge they offer. Older children use their upper body strength to play on climbers. It is helpful for children to play on monkey bars and climbers at any age because they will develop upper body strength effortlessly. When playgrounds are installed, surfacing must be the correct and safe depth in order for the equipment to have a safe Fall Height and prevent injuries if they fall. As climbers add an element of risk to playgrounds, their safety must be a top priority. At Trassig, we have certified inspectors who care deeply about the safety and protection of children. We will make sure to inspect playgrounds thoroughly and check that every apparatus is safe and up to code.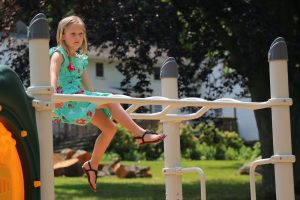 Schools report that they do not allow children to climb on top of monkey bars or hang upside down. This fact, coupled with the decreased heights of many apparatuses, takes away much of the challenge and thrill children seek from climbers. Going upside down can positively benefit vestibular health and sensory input. By climbing and reaching new heights children become confident in themselves. Letting children try new and different things on the playground activates different parts of their brain and can be extremely beneficial.
Use Zone
Stand alone climbers such as arch climbers, need a six-foot use zone but can overlap with other equipment's use zones if theirs allows it. Monkey bars that are part of composite equipment must be six-feet away from other stand-alone equipment.
Safety for Monkey Bars
For monkey bars or upper body equipment, the highest part of the structure to the surfacing determines the Fall Height. This means that the Critical Height must be as tall or taller than the monkey bars. ASTM 8.3.6
Monkey Bars are generally for four year olds and up, so they should only be on playgrounds for 4 to 12 year olds.