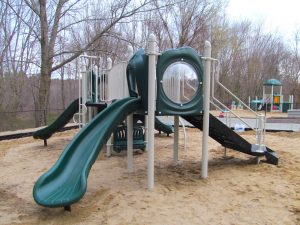 Slides are popular on the playground for the amount of fun they provide. The different shapes and variations of slides allow for children to choose the type of entertainment they want. Some slides allow children to go quickly, others twist and turn but lack speed. With playground regulation, slides have gotten shorter. Children need longer slides to provide vestibular stimulation. According to Angela J. Hanscom in her book "Balanced and Barefoot," vestibular input is essential to children's development. Children need it to develop balancing skills. As parents supervise, which is necessary sometimes, they don't allow children to climb up slides even when other children aren't playing at the same time. Allowing children to play differently on slides can allow triggers in different parts of their brains that aren't usually accessed. Letting your child use their imagination while using playground equipment can help in advancing their development.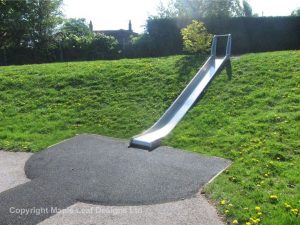 Safety
The Fall Height of slides depends on the height of its transition platform from the protective surfacing. The height from the surface to the transition platform of the slide will determine the Fall Height and the Critical Height of the surfacing must be as tall or taller than that.  ASTM 8.5.7
How to Prevent Injury on Playground Slides
Supervise: children often travel down slides facing the wrong way or without allowing another child to get off in time. Make sure your children wait their turn. Letting them go down in different ways can be beneficial to their creative development, but make sure they're not putting themselves in danger.
Check Material: any part of a slide or playground equipment that is made out of metal can get extremely hot and cause burns.
Check Equipment: some slides collect puddles of water at the bottom. If you care about your child's clothes getting wet make sure to check the equipment before they play. Enclosed slides can allow for danger as well. There could be debris or weapons inside that could harm your children.
Inspect Quality: If you bring your children to a set that appears old, check to make sure access ladders are intact and safe.
Check for Entanglement: Protrusions and gaps in slides can cause clothing to get entangled and in some serious cases can cause death. Entanglement can cause serious injuries which is why it is taken so seriously during inspections.
According to the National Recreation and Park Association:

Slide Necessities
All types of slides must include something that can help people maneuver into a seated position
Hood
Bar
Panel
Tube
Other chute entry device
ASTM 8.5.3.2; CPSC 5.3.6.2
Slide Bedway dimensions
Sidewalls must be greater than or equal to 4 inches high
Width must be at least 12 inches for pre-school age children
Width must be at least 16 inches for school age children
Reduced gradient exit must be at least 11 inches
Exit must be less than or equal to 4 degrees below horizontal
Bedway must have an average slop that is no more than 30 degrees, having no more than a 50 degree slope
ASTM 8.5.4.3, 8.5.4.4, 8.5.5.2, 8.5.4.1, 8.5.4.2; CPSC 5.3.6.3.4, 5.3.6.3.4
Slide Transition Area
Must be at least 14 inches deep
Must be as wide as bedway of the slide at the top entry
Must meet platform requirements of 14 inches for the levelness and the drainage
ASTM 8.5.2.1, 8.5.2.2, 8.5.2.3; CPSC 5.3.6.2 
Slide Exit
Height should be the vertical distance from the top of the slide exit to the surfacing
ASTM 8.5.5.1, 8.5.5.3; CPSC 5.3.6.4
Tube Slides Dimensions
The interior diameter must be no smaller than 23 inches
Must have a way to stop climbing and sliding on outside of the tube, like a barrier or a textured surface
ASTM 8.5.4.7; CPSC 5.3.6.3.5