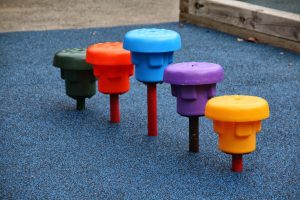 Benefits of Stepping Pods
Stepping pods have several benefits for children's learning and playing experiences. Playground equipment and what children can do on the equipment has a major impact on how they learn. Children use their imaginations and creativity on this piece of equipment. Children can build their strength and practice different types of skills. It is important for children to face risk, while still being safe. If adults properly teach children how to be safe, they can be free to use the equipment to challenge their mind and body.
 At Trassig, our stepping pods are a safe height and still offer all of the benefits. Stepping pods stimulate the minds of toddlers to older children. Children of all ages should have the opportunity to play and challenge themselves. Safety regulations and telling children how to use playground equipment can actually have a negative affect on the development of a child. It can hinder their creativity and not allow them to be challenged. We make sure all of our equipment is up to code and meets safety regulations while still recognizing the importance of children exploring how to use the equipment in different ways on their own. Under the proper circumstances, environment, and supervision, it is important to let children discover different kinds of play and activate various parts of their mind and body. They can do this through stepping stones.
Stepping pods allow children to:
climb
jump
balance
problem solve
better their motor skills
improve their coordination skills
enhance their depth perception
boost their vestibular system
Safety
For stepping pods, the distance from the highest point of the stepping pad to the protective surfacing is the Fall Height. The Critical Height of the surfacing must be as tall or taller than this height. ASTM 8.15.7
Stepping Pod Necessities
Diameter must be at least 10 inches
The height must be under or equal to 20 inches for 2 to 5 year olds, exception: if child has hand support
The height must be under or equal to 30 inches for 5 to 12 year olds, exception: if child has hand support
Hand supports have to be 22 to 38 inches above the surface of the stepping pods
They must be stationary for pre-school age children
They must be stationary if they are over 30 inches
The distance between the pods must be no more than 12 inches for 2 to 5 year olds
The distance between the pods must be no more than 18 inches for 5 to 12 year olds
ASTM 8.15.1, 8.15.3, 8.15.4, 8.15.5, 8.15.6